Right in the Heart of Richmond's
Historic Museum and Fan Districts
Your Home Away from Home
Even though you love staying in a Bed & Breakfast, you don't always want to get away from it all, do you? Let's face it... the sound of crickets can get old fast.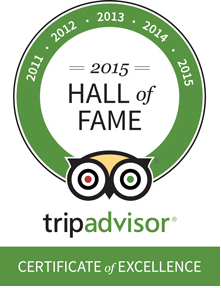 COVID-19 Update!
Hello future and returning guests,
Are you traveling through Richmond to get home or to family, volunteering to help those in need during the COVID19 pandemic, or do you just need a change of scenery from your new home office? Our doors are open and we can still provide you with the comforts of a home away from home while practicing social distancing.
We know that in today's climate, travel is to be kept to a necessity. During this time of crisis, we want you to know that the Museum District Bed and Breakfast is here for those who need a place to stay. Our B&B has been sanitized and is ready for guests. Although our evening social hour has been suspended, we're still serving breakfast and are offering options for dining.
We are located in a great area to walk and explore while still practicing social distancing. Additionally, many restaurants in the area (within walking distance) are operating on a delivery or pick-up option so dinner should not be an issue.
Come relax and enjoy some downtime or a change of scenery while you work remotely.
If you have any questions or concerns about your stay at the Museum District B&B, please do not hesitate to contact me at melinda.fields@vmfa.museum or 804-359-2332.
Stay Healthy!!
About Your Stay
Even though you love staying in a Bed & Breakfast, you don't always want to get away from it all, do you? Let's face it... the sound of crickets can get old fast.
Step out our front door and you'll see the Virginia Museum of Fine Arts right across the street, with the Virginia Museum of History & Culture just beyond. Walk two more blocks and you're at Monument Avenue, the only street in the nation designated a national historic landmark.
But we're not just about history, exquisite architecture, and culture. We're two blocks from Carytown, Richmond's unique shopping district, featuring eclectic shops, restaurants of every description (including two 4-star restaurants), the historic Byrd Theatre, neighborhood pubs, and live music spots.
We're also a quick seven-minute ride to Richmond's downtown, where you'll find the Capitol Building designed by Thomas Jefferson and the charming cobblestone streets of Shockoe Slip with its many restaurants and clubs.
Built in 1922 by Judge Rhea, our stately brick house welcomes you with its spacious two-story porch. Inside, warm yellow walls and dark oak floors lead you through our spacious common rooms - a cozy front parlor, cheerful dining room with crystal chandelier, library with walls of books - all with period architectural details.
Learn More
Sign Up Today
Subscribe to our newsletter and be the first to learn about our seasonal promotions and special deals.
By clicking "Sign Up" I agree to the Terms of Service.
TripAdvisor Reviews
We strive to provide an exceptional level of service for every guest, and are proud to have a 5-star rating on TripAdvisor.
View Reviews